Some Advises To Start An Antique Collection
A university graduate in retail management in London, Jamie retuned to Hong Kong, intending to pursue a career in the more glamorous industry of fashion.  Encouraged by her father to work for the family business, she started to learn Chinese antiques, and step by step, she mastered the Chinese antique trade.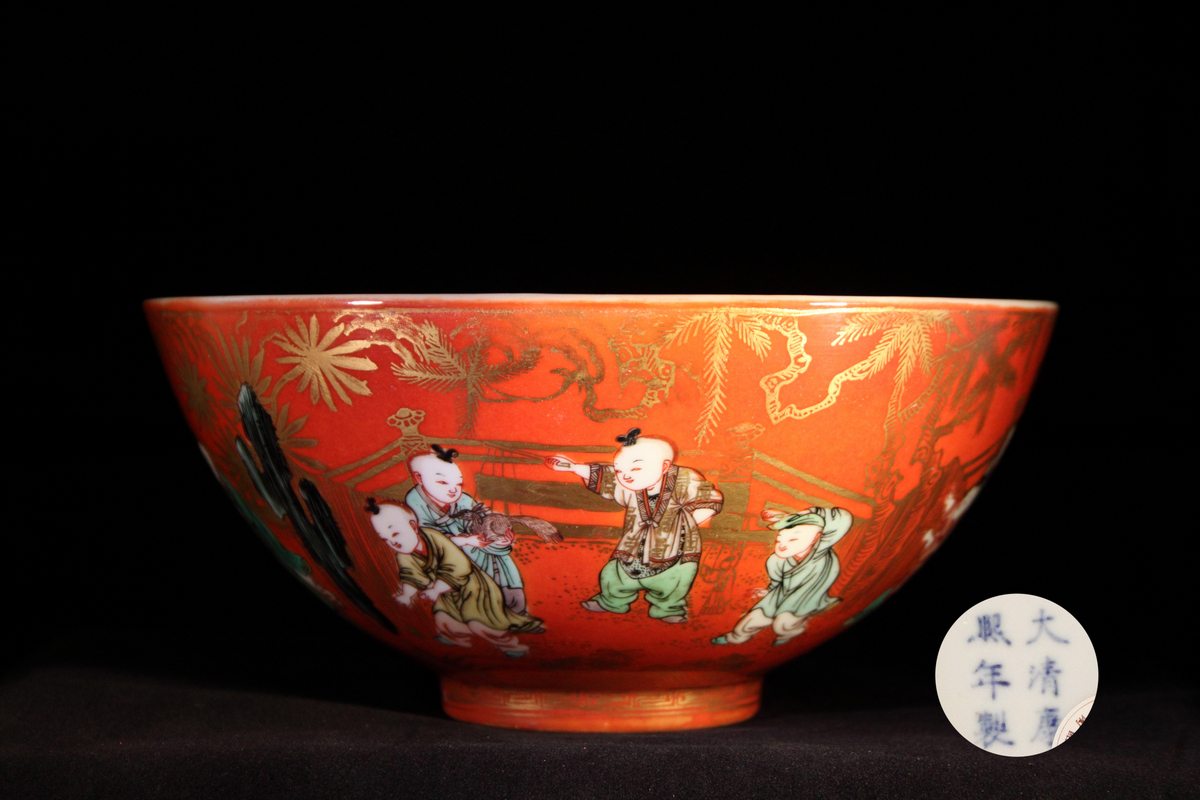 An extremely rare coral red ground famille verte bowl, Kangxi mark and of the period (Qing Dynasty, Kangxi period A.D. 1662-1722)
'It isn't an easy business' says the young antiquer.  The younger generation is mostly interested in contemporary art, as it tends to be more trendy and easier to be accepted.  Colourful and vibrantly paintings can easily become part of the home décor and the famous artists are easily recongnized.
'People think of Chinese antiques as dusty, old and worn items, but that is not true' says Jamie. One may ask why such an old piece looks brand new. She explained ' many of the good imperial wares of the Ming and Qing Dynasty pieces were solely made for display and passed down by collectors generations after generations.
For those who might be interested in starting a collection, we asked Jamie to give us some advise:
Do your research before you buy.
Information's can easily be obtained online nowadays, positive  or negative likewise. 'The price of a certain piece of antique is no secret these days, and its fair market value can easily be checked on the internet. Attending auctions held by major international auction houses, one can easily grasp a sense on the current market trend. Do your research on the piece you intend to buy, such as its provenance, condition, rarity and its market value.
Handle the piece to get a feel.
Things like the shape and weight of the piece, the palette used, style of drawing, foot rim as well as the reign marks, if any, are pointers to authenticate antiques. Do check the alterations in colour such as repainting, whether the rim and foot have been polished and the piece been buffed. Collectors should spend time examing the piece in detail before buying.
Don't view antiques purely as an investment.
Many people view collecting antiques as an investment, which they hope to realize a 10-20 percent return in a few years. Acquiring antiques isn't like buying stocks or trading futures. Some pieces only appreciate slightly like 10% in value over a course of 10-20 years.  However, they do offer worthwhile long-term returns. Antiques should be enjoyed first and foremost, aesthetically, with a potential added benefit of a financial return in the long run.
Don't just follow trends.
Famille rose porcelain of the Qing Dynasty is currently very popular, but two decades ago, Tang Dynasty terracotta figures and horses were trendy. However the prices of Tang pieces have dropped in recent years. Therefore, don't follow the crowd but buy what you admire most. Ming blue and white and Qing famille rose items are still worth collecting in the long run.
Find a dealer you can trust and establish a relationship.
If you established a good and trusting relationship with a dealer, he can assist you with some of the above and give you advise and guidance on what to purchase. This also eliminates the possibility of buying  fake pieces.
Orientique is a participating antique gallery in the second edition of Asia Week Hong Kong this year.
Orientique, Shop M4, Mezzanine Floor, Mandarin Oriental Hotel, 5 Connaught Road, Central, +852 2526 5889, www.orientique.com
來源: Life Style Asia